A son's pain spawns a business
Mary Johnson
, Editor, Bizwomen
You can also find this story at Bizwomen.com: http://www.bizjournals.com/bizwomen/news/profiles-strategies/2014/04/a-sons-pain-spawns-a-business.html?page=all
Apr 20, 2014, 10:19pm EDT Updated: Apr 21, 2014, 12:42pm EDT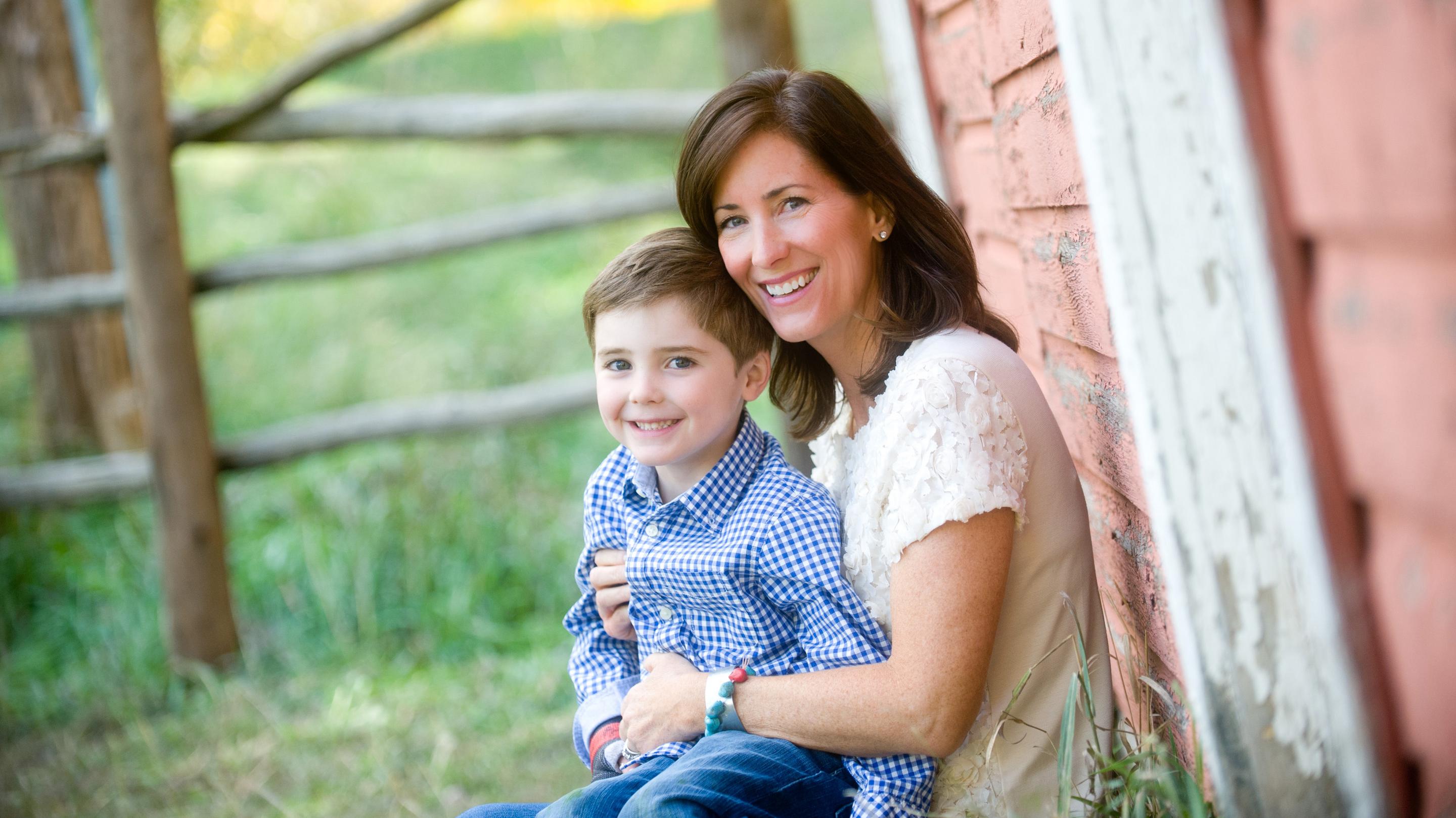 Beth Scott with her son, Harrison, age 5. Scott started her business, AD RescueWear, because of Harrison's struggles with eczema.
Beth Scott's son was born with perfect skin.
But when he was just 4 months old, Scott pulled him out of his crib late one night to find him sticky with blood that had seeped out of the skin on his scalp and wrists.
Panicked, she rushed him to the pediatrician, who prescribed an antifungal cream that did absolutely nothing. Next, she tried an allergist, who said her son, Harrison, had developed a staph infection — because eczema had caused him to scratch his skin raw.
Eczema was a foreign entity to Scott back then, in 2009. Her first child never suffered from it; neither did she. This was all going to be new — and it was going to play a defining role in Scott's life every day since.
Now she's built an entire business, called AD RescueWear, based on the one therapy that actually helped ease Harrison's incessant itching and manic scratching: wet wrap therapy.
The doctor who finally pinpointed eczema as the cause of Harrison's skin irritation advised Scott, who lives in Denver, to try wet wrap therapy. That meant she had to bathe her son for 20 minutes, apply a soothing ointment to his skin, wrap water-soaked gauze or pajamas around her son's body, put tube socks over his hands so he wouldn't scratch himself in the night, and duct tape those socks to his clothes so he couldn't paw them off.
"I was desperate to help him because it was just so frustrating. I was trying different creams," Scott told me. "And nothing was helping."
When nothing is working and your child is sick, desperation sets in. And suddenly, wrangling a 4-month-old into a pair of wet PJ's starts to sound reasonable.
And it worked: After a night in wet clothes, Harrison's skin was better. And that got Scott thinking.
"I just knew that if there was an easy way to do it, and a better way to do it, that other people could benefit," she said. "Parents are really desperate to find things to help their children live a regular life."
Scott said she spent two years talking to doctors about wet wrap therapy, researching fabrics and learning how to manufacture. She had worked for 17 years as an interior designer, so it was all about the details for her — everything down to choosing what kind of seam her product would have so it couldn't exacerbate the irritation brought on by eczema.
Anne McVey, a friend of Scott's since the fourth grade, joined her in the new company, bringing expertise in medical marketing and her own personal experience with her children's more mild cases of eczema.
The result of their preparation and research was a line of wet wrap therapy products — entirely self-funded — made with a TENCEL/Spandex blend that includes a full bodysuit for infants, pants and long-sleeved tops for older children and sleeves that can cover arms or legs for isolated breakouts.
The product is considered a class 1 medical device and is therefore subject to FDA regulation. But Scott was able to point to a similar, European product as precedent, sparing her company some of the regulatory hurdles that could have cost her loads of time and money.
In 2012, the two friends launched AD RescueWear (the AD stands for atopic dermatitis, dermatologist speak for eczema). The products are sold through the company's website and distributed throughout all 50 states, as well as in Denmark, the UK and Ireland. It's also marketed to allergists, dermatologists and pediatricians.
Scott said sales have been "booming" since the beginning of 2013, although she did not offer specifics. And the market is there to support the business going forward. Scott said roughly 20 percent of children in the U.S. suffer from eczema. The National Eczema Association backs that up, putting the estimate at about 18 percent, on the high end.
And there is no cure, Scott said. It's all about ongoing maintenance.
Harrison is now 5 years old, adorable and "much better than he was," Scott told me. He still needs the occasional wet wrap — such as the other day, when the weather got warm and he came home with an outbreak on the backs of his knees. But it wasn't that long ago that the condition was crippling.
"The poor kid, we barely have any pictures of him when he was a baby … I would take him out, and people would say, 'What's the matter with your baby?'" she said. "And that's why we try to work to make people understand how awful eczema really is."